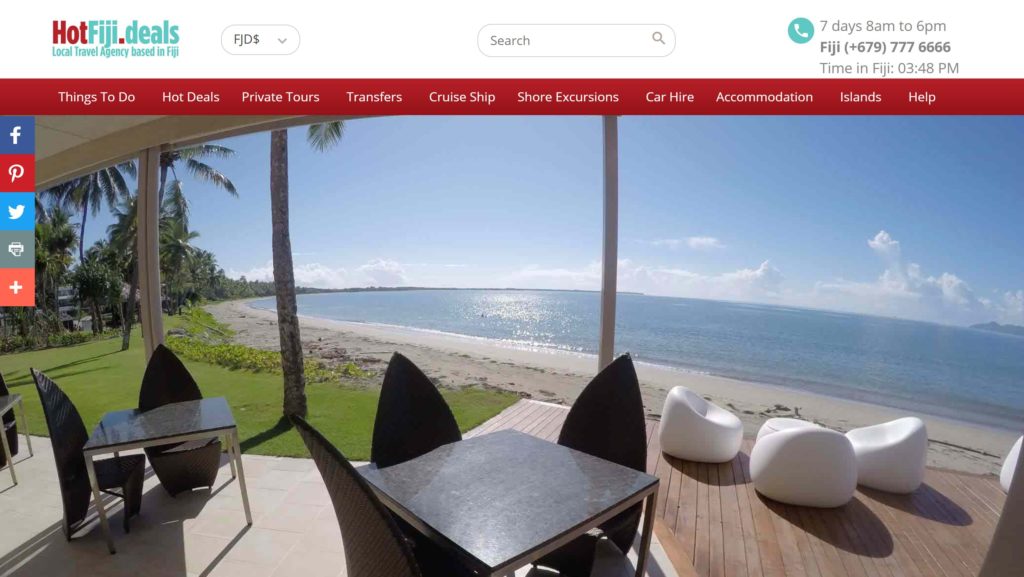 Online Travel Agency
This travel agency started from scratch with no premises, only an online website selling tours, activities, transfers, flights and accommodation packages in Fiji. In just 3 years, the website went from zero views to 7k visitors and 24k page views a month. On average there are around 10 orders a day depending on the time of year.
Visit site
Challenge
To build a modern online business website from scratch with new branding and a powerful, secure online booking system for under $10k.
Solution
Find a suitable WordPress theme that was designed for the travel industry. We then customised it with big new booking buttons, new colours and branding. It was then integrated with Rezdy online booking system and made secure. Yoast SEO was also added to help with organic SEO along with Google Analytic and Google Search Console (previously called Webmaster Tools).
11500
- Visitor Sessions
Results
In just 3 years, with no paid advertising, the website is now processing around 10+ orders a day.
I was super impressed with the quality of the website. It only took 3 months of being live before we made our first sale. This was with no paid adverting at all. It took a long time to load up each tour as we went out and gathered all the content including all original photos ourselves. The website showcases the photos very well too. Big booking buttons and an excellent booking system as made our business a success.